Laurence C. has been living in Dunkerque for 20 years.
Passionate about "HER" adopted city, she became a Greeter in 2013 for the pleasure of meeting and sharing.
She testifies here of her wish to make the Greeters walk accessible to blind people.
Village of Eze Photo credit : ©FragonardThe Nice Côte d'Azur Metropolitan Tourist Office is keen to animate its community of Greeters and to encourage meetings between and with them! Thus, at the initiative of the Office, the famous Maison Fragonard...
Go to the Blog tab to see more…
Greeters
are volunteers who welcome visitors (groups of up to 6) during a walk, as they would do for friends. Greeters are passionate about discovering their city, neighborhood or village and sharing their way of life. The reservation of a walk with a greeter is done on the internet:
greeters.fr
.
The Greeters du Nord have been contacted by the association« Les Auxiliaires des aveugles 59 » in order to offer walks to blind or visually impaired people. It was agreed that each of them would be accompanied by a sighted person.
To start, 7 walks were proposed in October 2021 by 4 greeters: 2 in Dunkirk, 2 in Bergues, 2 in Mont des Cats and 1 in Helemmes.
If this experience is judged positive by "Les Auxiliaires des aveugles 59" and by the Greeters of the North, it will be renewed with the proposal of new walks in the next months.
For this occasion, I created a sensory walk allowing you to discover Dunkerque by touching it, listening to it, smelling it, feeling it.
This small tour allows you to travel through the history and traditions of Dunkerque, to discover works of art and architecture with very different aesthetics.
On the other hand, I tried to describe more precisely what I usually just show.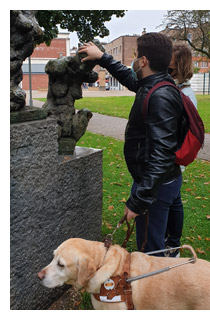 I relied in particular on the sounds of the city that I contextualized, as well as recordings of music and ambiences emblematic of Dunkirk traditions that I broadcast during the meeting.
I also proposed to compare by touch the different architectural styles through an element common to all: the column. Indeed, columns are present on several works of art and buildings of different periods. Depending on the style, they are very different from each other (shape, materials, dimensions, …) and allow to apprehend the whole building or work.
Dunkerque being a maritime city, I wanted to make them feel this essential aspect of its identity by proposing to them to discover by touching elements of the port heritage: cannons of privateer ships, mooring bollards, hull of a pilot boat, rudder, anchor, etc… Dunkerque having also an activity of fishing, we could smell it in front of the fish market of the port
At the beginning of the project, I had doubts: not having received any training and never having been in contact with blind people, would I be able to propose a walk that would interest them?
During the few weeks of preparation, I went around the city looking for ideas, I touched the city and its monuments, I listened to it and I discovered remarkable aspects that I had never seen before!
Some blind people were very receptive to my suggestions to discover the city by touch, some a little less, but all were delighted with the walk.
Here are some testimonies received after the walk: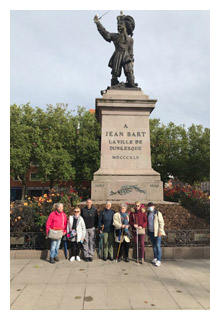 – Julien, visually impaired: "I found it very constructive, it's not full of details but it's very complete. You make them touch some stones, some textures, some elements. But you don't let them touch anything, or any time, it's very precise. It's detailed and complete but it's not too much, it's at the right time. So that was great."
– Laurence, guide : " Very pleasant and instructive walk, historical, architectural, cultural, with a sensory approach new to me ".
– Jean Pierre Bizet, President of the Auxiliaires des Aveugles 59: "I am the spokesperson for the group that visited Dunkerque. Unanimously, I thank Laurence for the quality of her comments, showing a great deal of preparation beforehand, for her enthusiasm in talking about her adopted city, and her constant desire to "translate" her knowledge to the visually impaired public present. For the blind, this visit and the way it took place was a real success. Everyone had a great time."
Several aspects that I proposed during these 2 meetings also seem to me very interesting for walks with sighted people, as for example the use of sounds or the diffusion of music. And I'm thinking of including them in my next greets.
Between exchanges and sharing, these meetings were very enriching for me.
Laurence C.