Home > Sustainable tourism > The Greeters of Nantes, solidarity tourism in the districts

Towards a solidarity tourism structure in the priority districts of the Nantes metropolitan area. In 2018, the City of Nantes Métropole's Political Mission asked us, as an association of the Greeters of Nantes, to carry out a study of the tourist potential of the "city political*" districts.
Our study was conducted in two phases. From March to June, a project manager, specially hired for this mission, met about forty people (neighbourhood actors, residents, institutions…) to ask them "A tourism project in the neighbourhoods, what do you think?".
Then at the beginning of May, we went to Marseille to discover the "Hôtel du nord" cooperative, with two community leaders who work in Nantes districts, two residents of the Breil district and a municipal elected official from Nantes whom we had invited to join us. The cooperative has given us a lot of initiatives imagined in the northern districts of Marseille: walks in the wastelands or in even more surprising places (we were seen crossing a supermarket with our helmets listening to the stories of the local people! ), knowledge of local products (associations, small businesses…) and bed and breakfast in local homes. All this forms a particularly coherent whole… and therefore very cooperative.
This mission was not entrusted to the Greeters of Nantes by chance!
It is the continuation of a whole series of projects carried out over the past few years, including a study trip to Seine St Denis in 2012 and the organisation of "Nantes se dévoile" in 2013/2015, a programme of walks / discoveries set up in different districts with residents and associations.
Click on video thumbnail on the left.
And now ?
With the positive results of this mission, we submitted a request for the creation of a prefiguration association whose objective would be the concrete feasibility study of a project inspired by "Hôtel du Nord" as well as the first experiments (accommodation, walks, sale of local products and services). We would extend the green line of the "Voyage à Nantes", in the neighbourhoods in the footsteps of a Greeter!
Regarding feasibility, one of the gateways to a project that aims to be ambitious would be culture, with everything that is being done in the cultural field in the living spaces of the inhabitants and inspired by this reflection heard during our welcome to the "Hôtel du Nord": "a place is an artistic approach for a dramaturgy of the landscape, a dramaturgy that is not spectacular but that is slowly and carefully built by discussing with people".
When we "work", we take even more pleasure in meeting friends and there the cooperators of Hôtel du Nord and our friends Greeters from Marseille shared with us some wonderful moments. Thank you to them. We'll keep you informed for the next step 😉
*The City Policy aims to reduce the development gaps in certain districts and improve the living conditions of their inhabitants. Its scope: 15 districts in disengagement at the scale of the agglomeration.
Daniel C.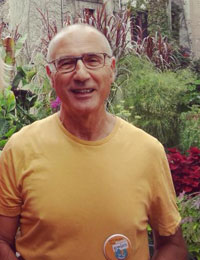 When Johanna Rolland, mayor of Nantes, presents Lydie B., a member of the greeters of Nantes, to an assembly and whom you like to show around your city, you become a greeter. I've been for a year and a half, that's my only youth criterion!
Without being a guide or historian, I like to welcome visitors, but to do things right I get informed, I learn about local history and enjoy it. When you're retired, it's a good way to maintain your neurons.
What I still appreciate is that greeters are not only interested in "beautiful stones", the heritage is also the inhabitants, hence the investment of Nantes greeters in cultural projects in "districts" with other associations.
Nantes is still the metropolis of Nantes-Saint Nazaire, it goes without saying that having lived thirty years in Saint Nazaire, I help Linda R. in her project to create greeters in Saint Nazaire. Expected birth: summer 2019.