The Greeters du Havre team Sept 2019 – © LH Marcopolo76
Home > Greeters Events > Le Havre Greeters Internationnal Week

The International Days are an opportunity for the organisation of the Greeters du Havre to review their activity. On September 6, 2019, the 300 walks since the creation date in April 2015, were reached.


This year, this group of 17 people, at almost equal parity, welcomed 15 nationalities from the five continents and in five languages. As the city of Le Havre is attracting more and more German tourists (mostly cruise passengers), it has proved necessary to recruit two additional German speakers to meet this demand.
How do Le Havre Greeters work?
Le Havre's growing reputation has reflected on the Greeters' rise in power, with an increase in the number of hikes of 25% in 2018 and already 62% in 2019 with a forecast of 140 at the end of September with a record performance of 100% of requests satisfied since 2017.
The Greeters meet several times a year with the Tourist Office. On this occasion, the assessment of the past months is studied (appreciation note of around 19.5/20 and complimentary comments from the guest book) and the prospects for the development of tourism and events in Le Havre are communicated.
In addition, over time, the Greeters have become a group of friends who like to meet several times a year to share their experiences and take the opportunity to visit unusual places in their city. As a result, they were able to enjoy a private visit to the Centre d'Expressions Musicales, in the Fort de Tourneville, on August 26.
Le Havre, a city that has become a must in Normandy, can pride itself on offering this service of discovering the city with the diversity of approach that the variety of profiles of each Greeter allows.
Claude P.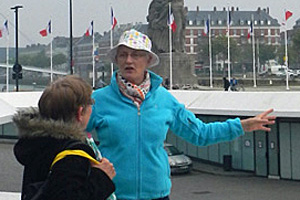 "My passions are contact and travel. When I retired, I joined the greeters team in my city, Le Havre, and found the activity that fulfilled my expectations.
Little by little, I realized that my other commitments were converging towards the greeters. This summer, I was able to walk around with various groups to which I belong: couch-surfers, volunteers from the women's football world cup, retirees' associations.
It's all about showing your city, to visitors or residents!"