Pont Saint-Etienne Limoges © Jean-Claude Leymarie
Admit that you don't know much about Limoges. Ah! Yes, the porcelain, the basketball players of the CSP… and that terrible verb "to sack" (limoger in french) so negatively charged!… What if your stroll with a Greeter changed your image of Limoges for the better ?
In the team of Greeters of Limoges, each visitor can find what he or she likes: a more classical approach, or more literary, or more sporting, or in the meeting places for young people, etc. One thing they have in common: a sincere desire to share their love for this city with you.
Jean-Claude, greeter in Limoges.
I was born in a working class district of Limoges; as a teenager, I walked all the streets, with my eyes and ears wide open. I still have images and anecdotes that I like to recall. How not to talk about the splendour – alas, erased – of the Gallo-Roman city with constructions rivaling those of Rome or Pompeii? "
How can we not mention the medieval intellectual pole, with the rich scriptorium of the Abbey of Saint-Martial, where European musical polyphony was to be awakened? And the Limousin troubadours? And the beauty of enamel, the happy discovery of Limousin kaolin, the creator of an industry that occupied a large part of the population? But also the teeming innovation of companies in the ESTER Technopole?
Does the "City" attract you? I will help you to imagine the life of these neighbourhoods over time through anecdotes and images from the past (on the shelf).
If you choose to visit the "Castle", Mussorgsky's music will accompany us to the picturesque district of the rue de la Boucherie. Perhaps we will decide together to have lunch in a nice restaurant in the "Entredeux-Villes" to discuss other issues of interest to you. Like my friends Greeters from Limoges, I am a passionate person who is only waiting to share his passion. And then, from these encounters with my visitors, friendships are born that last and enrich me spiritually.
Jean-Claude
Quartier des lavandières © Jean-Claude Leymarie-Greeter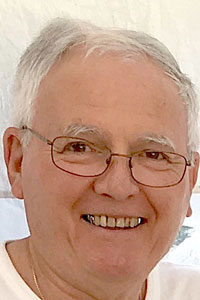 © Jean-Claude Limoges-Greeters

Our walks are an opportunity for enriching and friendly cultural exchanges. Our visitors receive a follow-up email after the meeting. They very often testify and show the pleasure of discovery with the Greeters.
Here, for example, is the testimony of Elisabeth, an Angevine sent on an internship in what she imagined to be a depressing and uninteresting city. She wrote to us: "This visit exceeded my expectations. Thank you for your welcome and for sharing your knowledge. I will come back to visit your beautiful city with more time for tourism. »
As a bonus, Jean-Claude would like to share this quotation from Patrick Modiano in which the Greeters are inscribed:
"As the years go by, each district, each street of a city evokes a memory, a meeting, a sorrow, a moment of happiness. »