Home > Blog-Evènements Greeters > Guides and Greeters a necessary complementarity

On the occasion of the International Tourist Guide Day on February 21, I thought it was important to talk about this profession. Despite an overall growth in tourism, the profession is sometimes in danger due to attempts to deregulate the sector. We are also seeing the emergence of platforms offering services of visits by local people (generally paid or tipped). Please note that for this edition, the Fédération Nationale des Guides Interprètes et Conférenciers (FNGIC) offers free visits to Paris by some of its 1200 members. More info, Click here .
The profession of guide-lecturer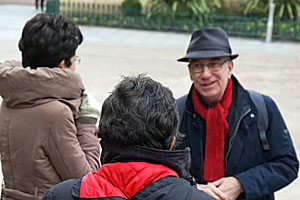 Pierre, what are the main qualities required to become a tour guide in your opinion?

Of course, you have to have a taste for contact, like people and have good interpersonal skills help. However, it is above all necessary to know how to express oneself simply while giving precise information, verified seriously.
Being patient and having a sense of humour also allows you to take a break when it is useful. It's a job where you meet a lot of people. It is therefore necessary to show empathy over time, be rigorous… and on time!

What are the advantages and disadvantages of your job?
The main advantage of being a guide is that you have a certain autonomy and you can work in magnificent places by sharing with others what you love (a historical period, a site, a character…). The main disadvantage is still not having the assurance of always having a job, if you are self-employed like me. Those who work in museums or in a particular structure have a little more security but there is sometimes less pay per visit and very few positions available. Freedom has a price, but it can certainly be difficult because it is an activity that is generally quite marked by the tourist seasons. You have to be able to hold out during off-peak periods.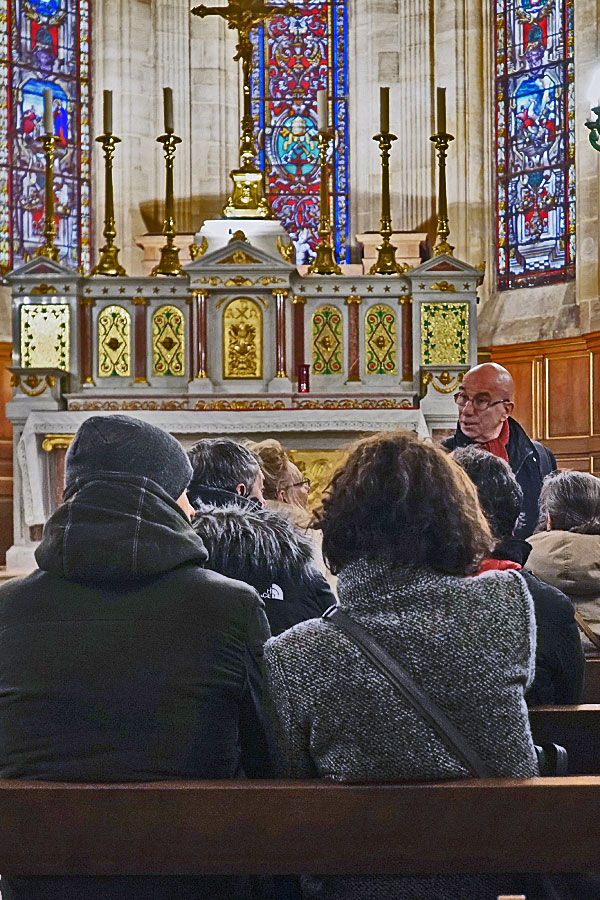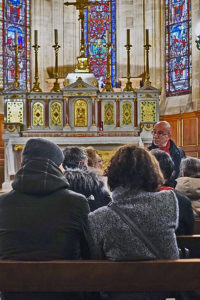 I imagine you had to follow a specific training course ?

Yes, of course, in Art History and to obtain the professional lecturer guide card which is mandatory to be able to guide in historical monuments. It is a continuous and personal training that must be carried out. We have to do research all the time, otherwise we risk listening to ourselves talk and repeat the same things. For my part, in addition to my training, I am especially passionate about the period of the Consulate and the Empire. It is for this reason that it seemed natural to me to contact the Tourist Office of Rueil-Malmaison where the Château de la Malmaison, emblematic of this period, is located. A relationship of trust has been established over the years and I still enjoy working with this organization.

Jonathan H.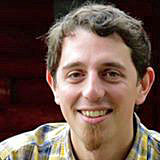 Although I was a professional guide several years ago, I decided to stop guiding strictly speaking, but to welcome visitors on my own time. I started in Paris first, then in Rueil-Malmaison where I recently set up a small group of greeters.
To talk about the profession of guide, I therefore asked Pierre Villanova, a passionate and fascinating speaker, to kindly testify. I often have the opportunity to see him guide groups to the castle of Malmaison or during visits proposed by the Tourist Office for individuals.
Thank you Pierre for agreeing to answer my questions…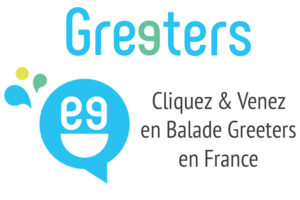 Why greeters in Rueil-Malmaison?
The setting up of a greeter network in Rueil-Malmaison is an idea I had had for 2 or 3 years; since I left Montmartre to settle on another hill, at the foot of Mont Valérien. Although only a few kilometres away, served by the RER A and soon by line 15 of the Greater Paris metro, it is a completely different tourism that I discovered. Having been greeters before in Paris (See Greeters Paris Region) I thought that there was also here the possibility to offer visitors another point of view on this city, better known for its imperial past than for its inhabitants. The very geography of this city, its 12 "villages", are very different and are as many discoveries for those who are interested in another form of travel, far from classical tourism and its clichés.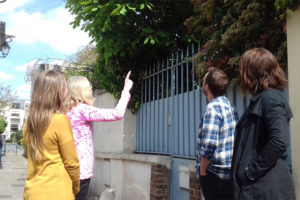 The suburb is a Martian land, unexplored by many tourists. Some people cross the ring road to visit a museum or exhibition, but those who choose to devote a few hours of their precious vacation time to meet an unknown person deserve the title of "traveller" or even "explorer". No program, no itinerary, no preparation either; we welcome visitors as we would with family or friends. Moreover, it is a "risk" that one takes: to become a friend, to put oneself in this mental disposition of meeting the other during a walk in the streets of Rueil-Malmaison. The conversation is free, evoking current events, daily life, our respective passions, our families, our travels. It is an opportunity to tell our memories, our anecdotes, our hopes about what will become of our neighbourhood, to recommend some good addresses… Finally, we realize that we share many things despite the fact that our living spaces look very different.
After a call made on the municipality's participatory website:" jaimerueiljeparticipe", we are now a handful of volunteers and this is more than enough to meet the low demand for walks we are currently receiving (while in Paris many requests cannot be met despite nearly 400 volunteers!). The objective is to give travellers who so wish the opportunity to meet the people of rueillois, because we are convinced that there is a place for the inhabitants in the tourist offer of Ile de France and the West of Paris in particular. The experience we offer is simple, but it is authentic and without artifice, which is not always easy to find so close to one of the most visited cities in the world. I like to think that as a resident, not a history specialist, not in a position to talk about Heritage (since it is forbidden to guide in a historical monument without a professional card), we are rather here to talk about the present, about daily life and why not, to share our vision of the future…
Guides and Greeters a different and complementary role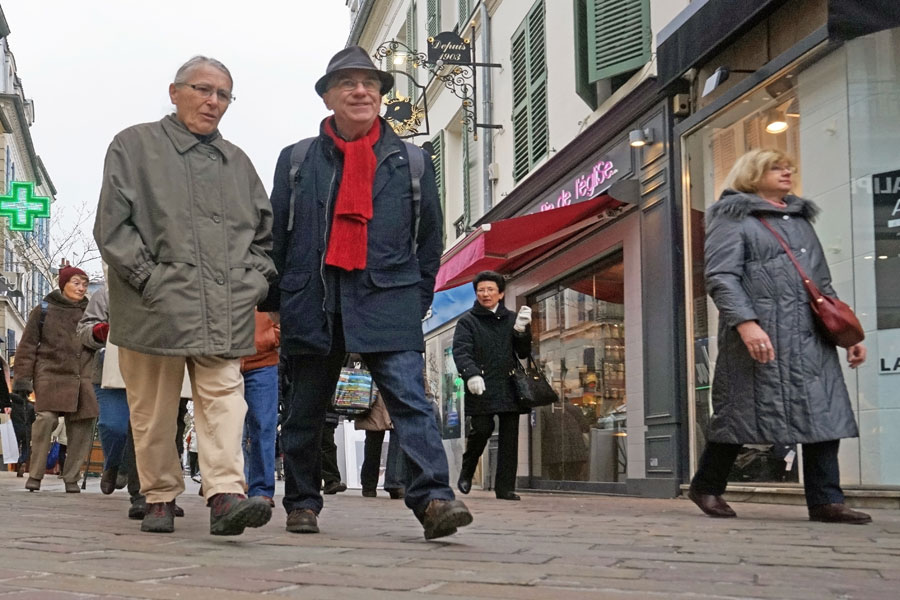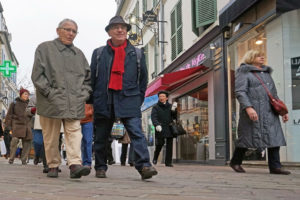 Pierre certainly shares his passion for the empire during his conference at the Château de Malmaison, but his visit must be accurate, documented, prepared and complete. He's like an actor on stage with a role to play. It would be strange for him to tell his story and move from a discussion about the Rueil Athletic Club to a discussion about how our social security works, without saying anything about the lives of Napoleon and Josephine and the few happy years they spent in Rueil-Malmaison under the Consulate. This episode of History, which is also fascinating, for what it has left to France (Legion of Honour, Civil Code, even the scientific discoveries of the Egyptian countryside…) belongs to the guide, but is complementary to what Rueil-Mamaison has become today. Greeters like us, recommend the guided tours offered by the Tourist Office. If our trip is free, it is not to compete with them, but because the meeting is not paid for. We accept donations if visitors wish, but never for ourselves, as this is one of the founding values of the movement.
These are donated to the national federation France Greeters in order to help us to become better known and to finance the development of our reservation system. There is a need for an offer for all types of visitors, from history lovers to pioneers of participatory tourism, eager to meet and share with the inhabitants.
Rueil-Malmaison in pictures…