TOURAINE
COME FOR A GREET WITH A LOCAL
Old Town Square of Tours © OT Tours
Discover Tours – Chinon – Amboise – Loches – Sainte-Maure – Rochecorbon, with one of its inhabitants

Here perhaps more than elsewhere, the Loire and the tuffeau hillsides form an ideal setting for the majesty of the great loire castles, for the practice of
the art of the garden or the art of the vine. In the heart of the Loire Valley, the Touraine is renowned for its gentle way of life, Come share it with our greeters.

View of Montsoreau © J-S Evrard
Charm of the balloon trip on the © THE © OT Tours
Chateau le Coudreau as an extract © OT Tours
La Touraine: where is it, what is it?
La Touraine is one of the former provinces of France, heir to the civitas turonensis or city of the Turones, from which it takes its name.

Did you want to know everything ? Click here !
Tourism in Touraine: Val de Loire!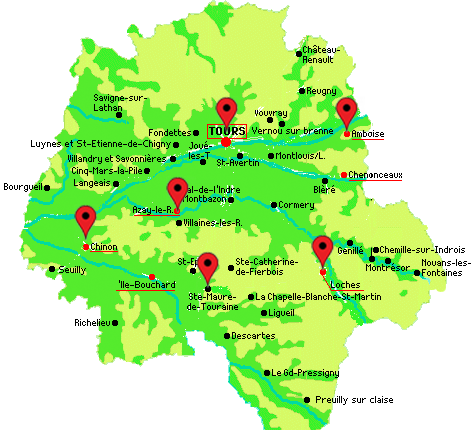 Let us offer you a ride with a Greeter in Touraine.
Choose your geographical area below, click the button, sign up,you will receive, by email, a proposal for a ride, with a greeter from this area. We'll choose it for you, it will take into account your interests and comments left on your registration form
Want to choose your own ride?
What our visitors say about our Greeters in Touraine
March 2019
Thank you Valerie for this pleasant discovery of Tours, we did not know the greeters or the city but you amazed us. Beautiful circuit, beautiful explanations "dosed" to our knowledge and tastes; congratulations, you were able to delight us.
November 2018
Thank you Philippe we had a very enjoyable morning with you. You were very informative and provided a good insight to the history and buildings of Tours. We would recommend you to any fellow travelers. Thank you Grant and Libby
March 2019
Ce fût une ballade instructive qui nous a fait découvrir Tours différemment,Christine Pousse est agréable et connait bien sa ville ,nous sommes ravis d'avoir pris un greeters car elle nous a fait découvrir des endroits ou nous ne serions jamais allés,encore merci de nous avoir consacré du temps.