Home > Greeters Events > Greeters Meeting in Issy les Moulineaux

Many of you attended our 'Eductour' Greeters meeting in Issy.
To start the day we welcomed the participants at the Issy Tourist Office for a friendly breakfast to get to know each other.
Thanks to the Tourist Offices of the Hauts des Seine; Vanves, Bourg la Reine, Châtenay-Malabry, Clamart, Nanterre, Suresnes, and the greeters of Rueil Malmaison for coming. Thank you to France Greeters for sponsoring our meeting.

Kaoru, Patrick and Christian, all three greeters from Issy, took us for a walk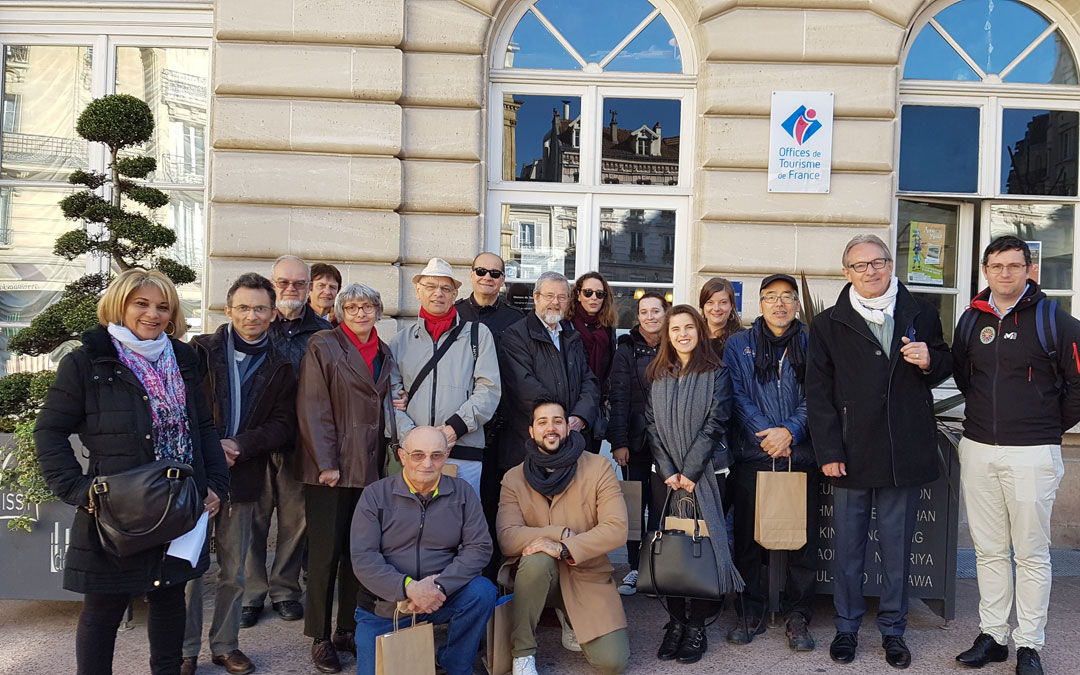 After breakfast and the traditional group photo, Patrick C., greeter and master of the Saint Vincent brotherhood, showed us the Parc Henri Barbusse, an old estate of Château Conti and we climbed the hill once covered with vineyards while crossing the Eco-neighbourhood of the Digital Fort.
Finally we arrived at Chemin des Vignes for a visit of the place with Patrick. We had the honour of meeting Mr. Le Grand fondateur du Chemin des Vignes, who spoke to us about the winemaking process, from the grape to the bottling. Then as it should have been, we had a tasting of an Alsatian wine behind the scenes in the cellars with Mrs Le Grand.
A gourmet lunch break was mandatory at Mr Moulinot's house near the island of Saint Germain. An address to recommend to everyone!
In the afternoon we continued the walk of Kaoru T. who is Issy's graeter, but also a Japanese Art artist. He accompanied us for a walk bathed in sunshine and tranquility on the island of Saint Germain.
Last stop, we visited Kaoru T's Japanese Art Workshop. A visit that he gladly offers to each of his visitors during his Greeters walks.
Kaoru is full of resources and he may bewitch you with a melody played on his Japanese flute, a magical moment!
The day ended with a snack on the terrace of his workshop, a friendly moment of exchange between Gretters and partners from the Hauts des Seine.
Patrick C.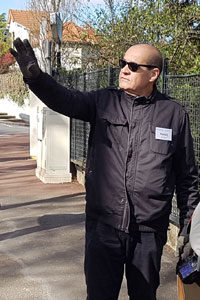 A lover of vines and gastronomy, grand master of the brotherhood of Saint Vincent d'Issy, Patrick, greeter d'Issy, will take you on a journey in the footsteps of the city's past and present wine-growing as well as to discover the traditions. Enjoy a wine tasting in the oldest of our crayons in Issy les Moulineaux.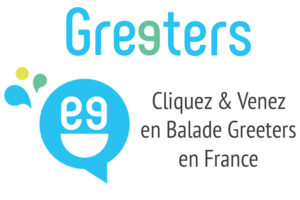 Eductour Issy April 2019, in pictures…