SAINT NAZAIRE
COME FOR A GREET WITH A LOCAL
Winter-sun fisheries © Greeters
Discover Saint-Nazaire with one of its inhabitants

Visiting Saint-Nazaire means embarking on an unexpected journey, exploring a territory with a thousand facets that complement each other without ever opposing each other: urban and seaside, XXL and intimate, historical and innovative, industrial and bucolic… To visit Saint-Nazaire is to live experiences that are not experienced anywhere else. According to your desires, we invite you to discover the singular history of a 20th century witness city, the gentle coastline with unsuspected beaches and coves, the industrial power of its unique port in France, the calm of the vast marshes of Brière… Choose a theme and go for a walk with one of our passionate greeters!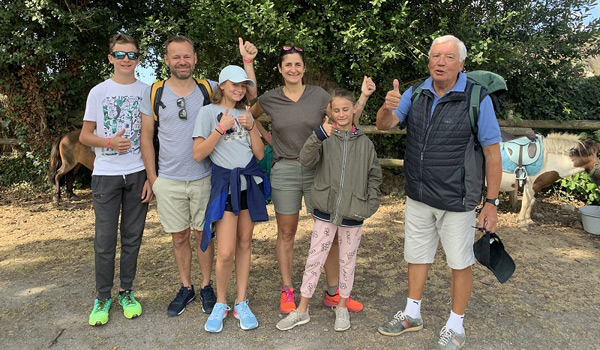 Greet en- Briere 31juillet2019 (©SNAT_BD)
Who are we?
The Greeters of Saint-Nazaire are happy to welcome visitors, as they would with their friends. These true ambassadors of the territory are volunteers in their free time to share their favorites and good plans during a walk and a friendly meeting. They are passionate about Saint-Nazaire and the nearby Brière, which they will show you as only a local can.
So, are you ready for discovery?
Click on a Greeters ride theme
Select your walk theme and fill out the registration form
You can leave us the choice to make you a proposal for a Greet. Our choice will be motivated by the items you can give us on the registration form and also by the availability of our Greeters.

By clicking Here, I let you choose the walk for me
What do our visitors say after a walk with a greeter in Saint Nazaire.
February 2020
"JE SUIS RAVIE ! Première expérience greeter pour moi : j'ai vraiment apprécié ainsi que les autres membres du groupe… nous avons vu et appris beaucoup de choses intéressantes sur Saint-Nazaire ! Grâce à Gilles, très bon connaisseur de la ville, de son patrimoine et de son histoire ! Je referai ce type de balade dorénavant ! Et je le conseille ! Super !"
Cecile N.
France (59)
July 2020
"Nous avons passé un excellent moment en compagnie de Bernard qui a su nous montrer les différentes facettes de cette ville qu'est Saint-Nazaire, encore un grand merci à lui !"
Emmanuelle B.
France (26)
August 2020
"Une jolie découverte du Parc naturel de Brière en compagnie de notre greeter, Léo. Il a su nous apporter de nombreuses informations et nous transmettre toute son attache pour ce site naturel. Un grand merci et nous y retournerons avec plaisir pour voir l'évolution en fonction des saisons!"
Jessica B.
France (92)
Greeters around the world

Contact us..
To check in for a ride
You can ask your conditions or questions in the comment box of the registration form.
For any subject other than registration
No request for a Greet will be processed here by this means.
How it works and responsibilities