VÉZÈRE VALLEY
COME FOR A GREET WITH A LOCAL
The Vézère in Condat © Greeters
Discover the Vézère Valley with one of its inhabitants

Over fifty kilometres, the Vézère Valley and its basin are full of treasures: a river, unspoiled landscapes, the presence of humanity for more than 400,000 years, a typical rural heritage, gourmet gastronomy, a culture full of relief, ancestral traditions, tales and fantastic legends.
Get off the beaten track. Discover the many facets of our destination. You will discover the Vézère Valley in an innovative way. You will have a human experience, thanks to participatory tourism.
The greeters of the Vézère Valley are ready to welcome you. Book your Greet today.
Who are we?
The Greeters® are locals in love with their territory. Each Greet is free, unique, authentic and friendly! They volunteer to welcome visitors. These locals share the time of a walk, their passions and their favorite places as they would with their friends. Indeed, a Greeter® is not a professional guide. It welcomes visitors to its living environment and explains it with passion
The Greeters concept aims to create an exchange between locals and visitors. The inhabitants become welcoming in their own right. Greeters reinvent the sense of hospitality with walks based on encounter and sharing.
Today, a dozen Residents greeters® offers several themes of walks: Nature and Environment, History and Culture and active discoveries. The walks last about 2 hours and are carried out for up to 6 people.
This offer is only available on demand and subject to the availability of our volunteers. Please note that a booking request is required, recommended at least one week in advance!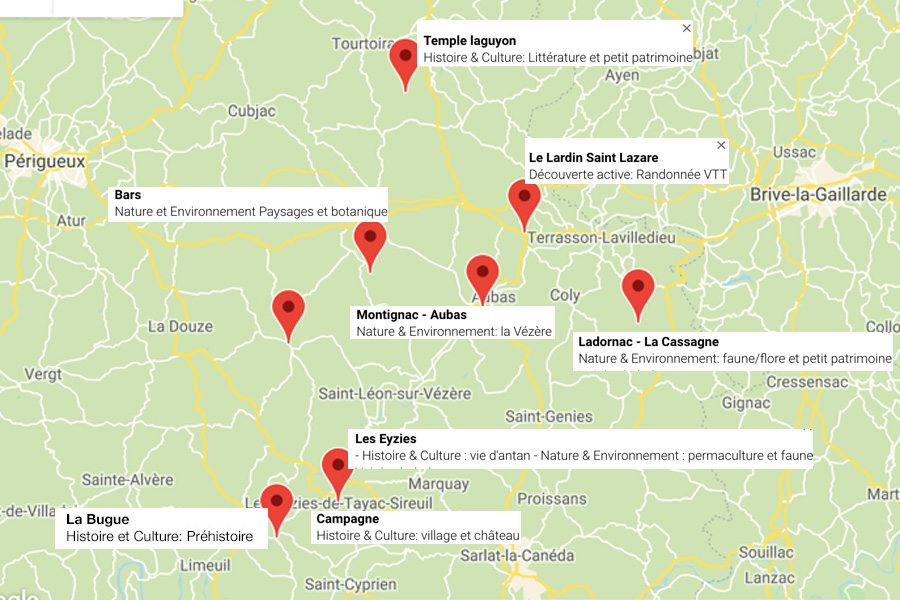 Are you hesitant to become Greeters® Vézère Valley?
If each inhabitant offers his vision of the territory, then there are 38,000 different ways to discover the Vézère Valley, offer us yours! Transmit your passion for your territory, let curious visitors discover it in a different way for a meeting!
The establishment of our Greeters network® Vézère Valley is recent. Today, it brings together 10 passionate inhabitants who are proud to discover their place of life. The team is being formed, our network can grow and all volunteer residents are welcome. See you soon!
Your contacts to become Greeters®
The Greeters Vallée de la Vézère network was launched in 2017 by the Vézère Périgord Noir tourist office and the Lascaux-Dordogne tourist office, Vézère Valley.
Our network is coordinated by two visiting counsellors, don't hesitate to contact them to find out more!
Martine: martine@vezere-perigord.fr Tel: 05 53 06 35 10
Françoise: francoise@lascaux-dordogne.com Tel: 05 53 06 97 05
Sign up for a Greet in the Vézère Valley with a Greeter
Choose your place to walk and click the thumbnail, to see the walks offered and register
You can leave us the choice to make you a proposal for a Greet. Our choice will be motivated by the items you can give us on the registration form and also by the availability of our Greeters.

By clicking Here, I let you choose the walk for me
What do our visitors say after a walk in the Vézère Valley with a greeter
March 2019
Une visite prévue pour durer deux heures, j'ai eu la chance de pouvoir accompagner Franck sur l'après midi dans son activité de feuillardier, un vrai bonheur. Ils m'ont permis de découvrir deux activités, la permaculture et le feuillard, que je ne connaissais pas. J'y retournerai quand le potager sera en activité.
Christian M.
Eyzies – France 24
August 2018
Bonjour Véronique, encore un grand merci pour ce moment de partage dans votre petit paradis ! Nous avons été ravie de faire votre rencontre. La Dordogne étant notre lieu de vacances depuis plusieurs années, soyez sure que nous reviendrons vous voir très vite ! Bel automne à vous !
Mary F.
Salome – France 59
Juillet 2018
We put Stephane at the right place and time, walked around the old town and heard about Annecy's interesting history and present. The walk was spiced with football and modern scalptuer, and was very enjoyable. Thank you Stephane?
Mr. Efrat.
Givat Ada – Israel
Greeters around the world

How it works and responsibilities