Home >
Become a greeter, be a volunteer and an ambassador for your territory
Are you passionate about your city, town or region? Share it with visitors.
You have just discover the greeters movement, the idea seems enriching to you and you want to be part of this collaborative tourism practice, to share with other cultures, exchange, practice a foreign language, make new friends during a nice and friendly meeting.
We look forward to your choice and welcome you to our community of Greeters.
How to become yourself, Greeter?
Our greeters are not let alone, they are part of local communities of at least 5 greeters. These are Non Profit Organizations or Organisations such as Tourist Offices. Thez all follow the same Greeter Charter and the same values.
There are two ways to join us:
Either a greeter organization, a network, already exists in your city or region, not very far, so contact them and ask to become a member. See the map of our locations in France under the "Greet Request" tab.

Or no organization exists near you, then you need to create one!
You can group with friends or acquaintances, or lobby the tourist office of your city or community of municipalities, so that they set up and manage, within their structure, a group of Greeters affiliated to the French Federation.
Contact us by fullfiling the below form. Thanks
Seven steps to create a Greeters Network
Contact FFG (Fédération France Greeters). An elected member of its Steering Committee will become your contact (your sponsor") and will answer your questions. This phase ends with your commitment or not to set up a Greeters organization.
Declare your project to the FFG You become a "candidate member" of the Fédération France Greeters. This is, for you, a commitment to join the international Greeters. It is also for us, a commitment to do everything possible to help in this implementation by following the rules of the Greeters and using the tools made available to you by the federation.

Recruit the first greeters volunteers and announce your intention locally. It will take a few months. You need at least five greeters to claim membership in the Greeters.

Set up a dedicated website to present your Greeters service and collect requests from visitors. The site must follow certain rules (domain name, English language, logo etc.) we will help you to set it up.

Your site must mention the membership to the brand "France Greeters" with logo and link to a presentation page on the FFG site. This also implies your adherence to the Greeters Charter linked to the "France Greeters" brand.

You must use the "JEF" ride management system, made available to you by FFG and for this purpose follow the training given by the Federation. It will be linked to your Web site. This is simply done using links to the common Request registration form.

When you are ready to start, you are a de facto member of the Fédération France Greeters, which also helps you to obtain the International Greeters Label. Your Greeters commitment must already be signed at this time. The members finance the Federation by an annual contribution. Common actions are decided by the members voting in General Assembly.
Contact France Greeters Federation. Ask us your questions!
France Greeters
International Greeters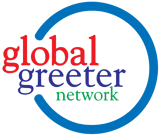 Contact-us by email: contact@greeters.fr