ANNECY
COME FOR A GREET WITH A LOCAL
The Island Palace – Annecy © Greeters
Meet Annecy with one of its inhabitants
Be surprised by discovering Annecy in the company of a local of this beautiful city. The Lake Annecy Greeters welcome you and offer many walks:
Journeys along the lakeside, Discovery of the old town, Industrial history of the city and other unusual activities to enjoy Annecy: jogging, photography, gastronomy…
Annecy's greeters are ready to welcome you. Don't hesitate to book your Greet today.
Welcome to Annecy! Who are we?
We simply offer you to get into the everyday aspect of our city, with its canals, its lake, its alleys, its bistros…
During this walk, Annecy locals, "greeters", in love with their city, will be happy to share with you the charm of unusual places and to tell you the big and small stories of their city. This visit we will make with you, in and around the city, will take into account your tastes, your interests and your rhythm.
We are volunteers, members of the International Association of Greeters. We want to introduce visitors to Annecy, just as we would for friends. We are neither interpreters nor graduate speakers, but curious locals, passionate about the riches of our region, who speak several languages, and want to meet and welcome curious travelers.
What's more your greeter brings you: she or he will share with you his experiences and anecdotes; Will tell you where they are right. and of course will be happy to answer the questions that will allow you to get to know our beautiful region better. Moments that we hope will remain unforgettable for you.
The charter of our association will tell you more about greeters (Download at the foot of the page)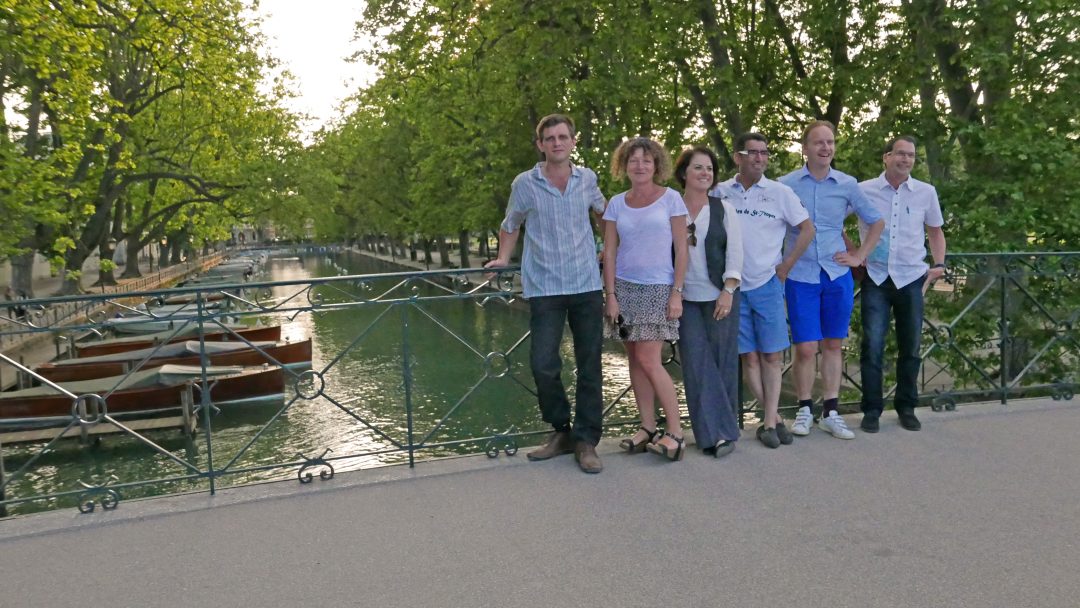 Our Greeters team (Click on thumbnails) ?
Choose your Greeters walking theme on Annecy
Then fill out the registration form
You can leave us the choice to make you a proposal for a Greet. Our choice will be motivated by the items you can give us on the registration form and also by the availability of our Greeters.

By clicking Here, I let you choose the walk for me
What do our visitors say after a walk with a greeter from Annecy
May 2019
"Un grand MERCI a Romain pour cette visite de la vieille ville d'Annecy ,explications très clair et intéressante , suivi de pleins de conseil pour la suite de notre séjour, nous recommencerons cette démarche dans une autre ville Dominique, Patrice, Monique ,et Jean-Robert."
Patrice R.
Marsillargues – France 34
December 2018
"Un seul mot : parfait!!! Un « greeter » convivial aux commentaires précis agrémentés d'anecdotes pittoresques. Deux heures enrichissantes"
Francois B.
Rueil Malmaison – France 92
Juillet 2018
"We put Stephane at the right place and time, walked around the old town and heard about Annecy's interesting history and present. The walk was spiced with football and modern scalptuer, and was very enjoyable. Thank you Stephane?"
Mr. Efrat.
Givat Ada – Israel
Greeters around the world

How it works and responsibilities