CAEN LA MER
COME FOR A GREET WITH A LOCAL
Abbey "aux Hommes" in Caen © Caen la mer Tourist Office
Discover Caen la Mer with one of its inhabitants

A territory of contrast between the bustling city of Caen and its historical heritage, a wild and unspoiled nature or the seaside that stretches from Ouistreham Riva- Bella to Lion on the sea. Caen la mer is a destination with a thousand facets, from the Middle Ages to the beaches of the D-Day landings through unspoiled nature. Here it's all here! From must-sees to hidden treasures, choose your greet according to your desires thanks to our passionate greeters.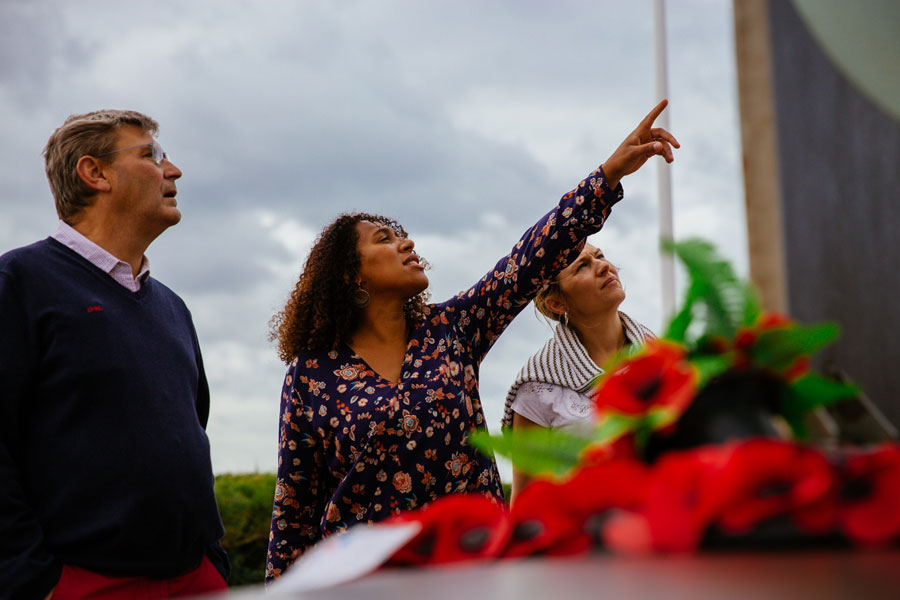 Who are we?
Discover Caen la Mer in a different way
How? By calling a Greeter!
The Greeter is a local, passionate about its region, wishing to volunteer to discover its places and favorites. He is not a lecturer's guide but curious and in love with his city and its surroundings.
Follow him and let yourself be carried away by the exchange and discovery of little-known and atypical corners. All this, under a new look. The Greeter's.
Sharing, good plans and walks will be there for an unforgettable moment. So don't miss it!
Are you interested in this concept? Choose the Greeter that suits you.
Want to become Greeters of Caen la Mer? Contact us to find out more. See the contact form at the foot of the page
Choose and click on a Greeters Walking Theme thumbnail, in Caen la Mer
Then choose your Greet and fill out the registration form
You can leave us the choice to make you a proposal for a Greet. Our choice will be motivated by the items you can give us on the registration form and also by the availability of our Greeters.

By clicking Here, I let you choose the walk for me
What do our visitors say after a walk in Caen la mer, with a greeter?
March 2019
"Nous avons beaucoup apprécié la balade avec Monique. Tout s'est bien passé: de la prise de contact aux mails et sms relatifs à notre rendez-vous ainsi que des petits conseils de dernière minute concernant les difficultés de circulation. Monique nous a fait découvrir Caen sans se ménager et nous en avons eu un bon aperçu en peu de temps (3 heures). Elle avait en plus prévu de la documentation et s'était au préalable renseignée sur des détails pratiques (parking, ouverture de musées etc). Bref, rien à redire: tout était parfait."
Marie Christine L.
Belgium
Novembre 2018
"En effet, j'ai participé à une balade sur le thème du marché St Sauveur. Très agréable balade où j'ai pu découvrir de plus près des producteurs et des produits locaux avec la charmante et sympathique Isabelle qui nous a donné en plus des conseils de cuisine. Je recommande vivement à ceux qui veulent se faire un petit circuit culinaire. Merci encore Isabelle Sabine"
Sabine R.
France
September 2018
"Je remercie Christian pour cette balade qui a su me faire découvrir avec talent le nouveau quartier de Caen entre le Canal, l'Orne et la Presqu'île. Connaissant parfaitement les différents projets, j'ai pu avoir une vue d'ensemble du futur Caen. Pour ceux intéressés par l'urbanisme et l'architecture, n'hésitez pas à profiter des compétences de Christian."
Catherine S.
France
Greeters around the world


How it works and responsibilities